HEALTHY HALLOWEEN JACK-O'-LANTERN STUFFED BELL PEPPERS
They say you shouldn't play with your food but that's because they haven't experienced Jack-O'-Lantern Stuffed Peppers. I mean, look how stinkin' cute they are!

Most stuffed bell pepper recipes call for ground beef but to keep mine completely vegan, I substitute meat with mushrooms which have a meaty texture.

If you're hosting a Halloween/Autumn dinner or are trying to get your kiddos to eat more veggies, this is the recipe for you! Not only are these peppers festive and fun to carve like pumpkins, but they're also hearty, filling, and healthy!
Heat the olive oil in a large skillet over medium-high heat. Once the olive oil has reached the desired temperature, add the red onions. As your onions are caramelizing, heat your oven to 350 degrees F.

While the oven is heating, rinse the bell peppers, cut off the tops (save them for later as the tops of the pumpkins) and clean out the seeds from the inside of the peppers. Place the peppers (not the tops) on a baking sheet, cover with foil, and bake for 20 minutes.
Once your onions are done caramelizing, add your mushrooms and black beans along with your dried seasonings (red chili flakes, oregano, basil, and ground cumin). Be sure to stir the ingredients in between each step. 
Next, move your mixture to one side of the pan. In the empty space, add a small amount of olive oil along with chopped garlic. Once the garlic is browned, combine the garlic with the rest of the mixture, stirring everything together. 
Add 1-can of diced tomatoes followed by sun-dried tomatoes (in olive oil) and cooked brown rice. Allow to simmer for a few minutes before adding the green onions (scallions) and salt, and pepper to taste. Continue simmering.
Once the bell peppers are done baking in the oven (soft) use a sharp knife to cut a spooky face onto them and  fill the insides with the mixture from the skillet. Place the bell pepper tops on top of the peppers then add the peppers to the oven for a few more minutes.
Once the bell pepper tops are softened, remove the peppers from the oven, serve, and enjoy! 
• Guacamole takes this meal to the next level- highly recommend! 
• Cholula hot sauce- I like to add this on top for a little heat!
• Vegan Sour Cream
• Nutritional Yeast if you're looking to add a slight "cheese" flavor that's also a great source of vitamins and minerals.
• Your favorite Vegan Cheese, if you want that creamy texture fully melted on top of your peppers.
• Sweet Corn (added to the filling mixture)
HALLOWEEN JACK-O'-LANTERN STUFFED BELL PEPPERS
Hearty, filling, and healthy!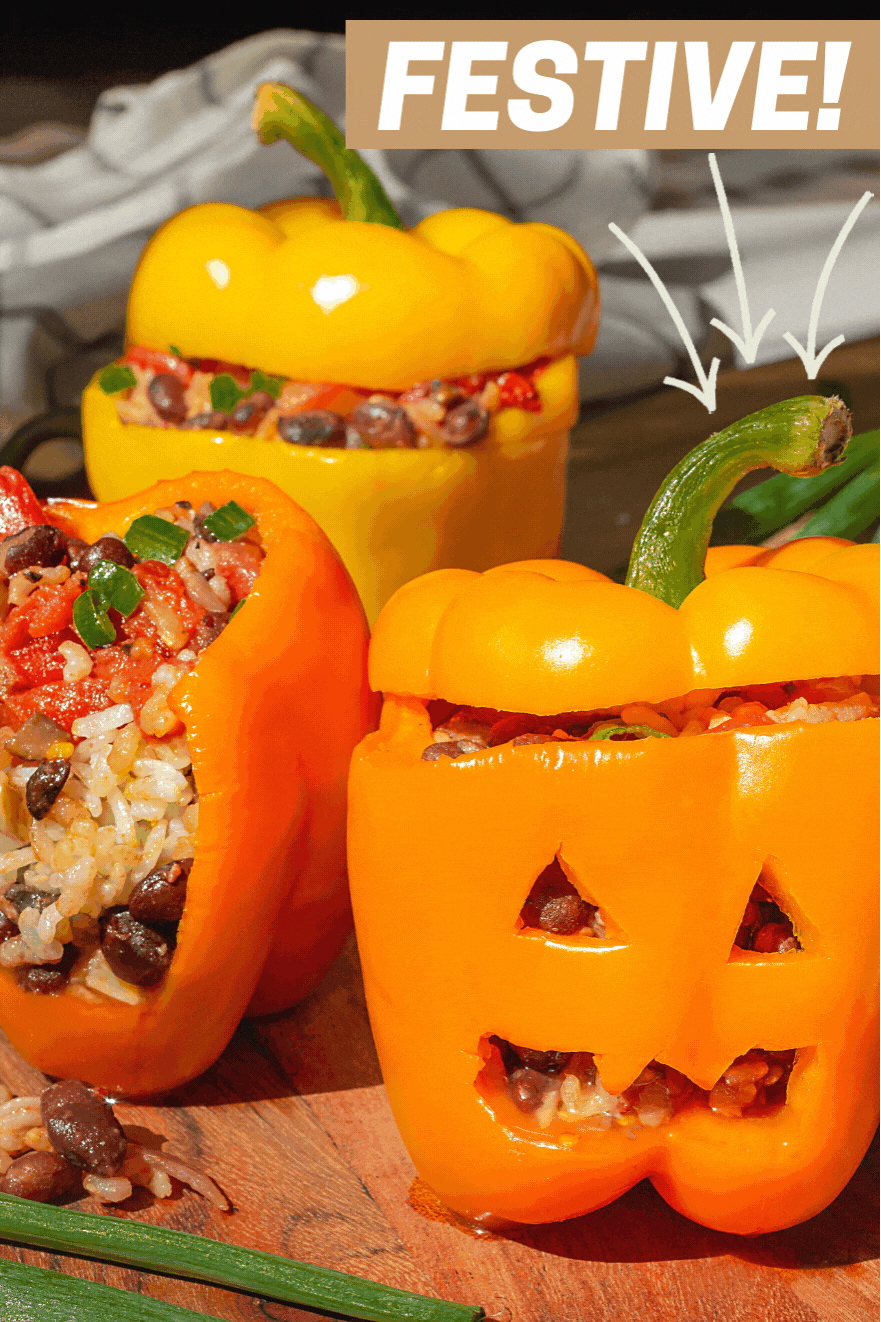 LIKE THIS POST? SAVE IT ON PINTEREST


clink any photo below to pin!