The Maltese archipelago is made up of three main islands, Malta, Gozo, and Comino. The Blue Lagoon can be found off of Comino and is a sight to be seen with turquoise waters and rugged cliffs. It's a hot spot and for good reason, it has some of the bluest water you'll experience and the saltiest. Hours after leaving, my hair was completely plastered to my head along with clusters of salt granules, the Blue Lagoon is truly an experience to remember!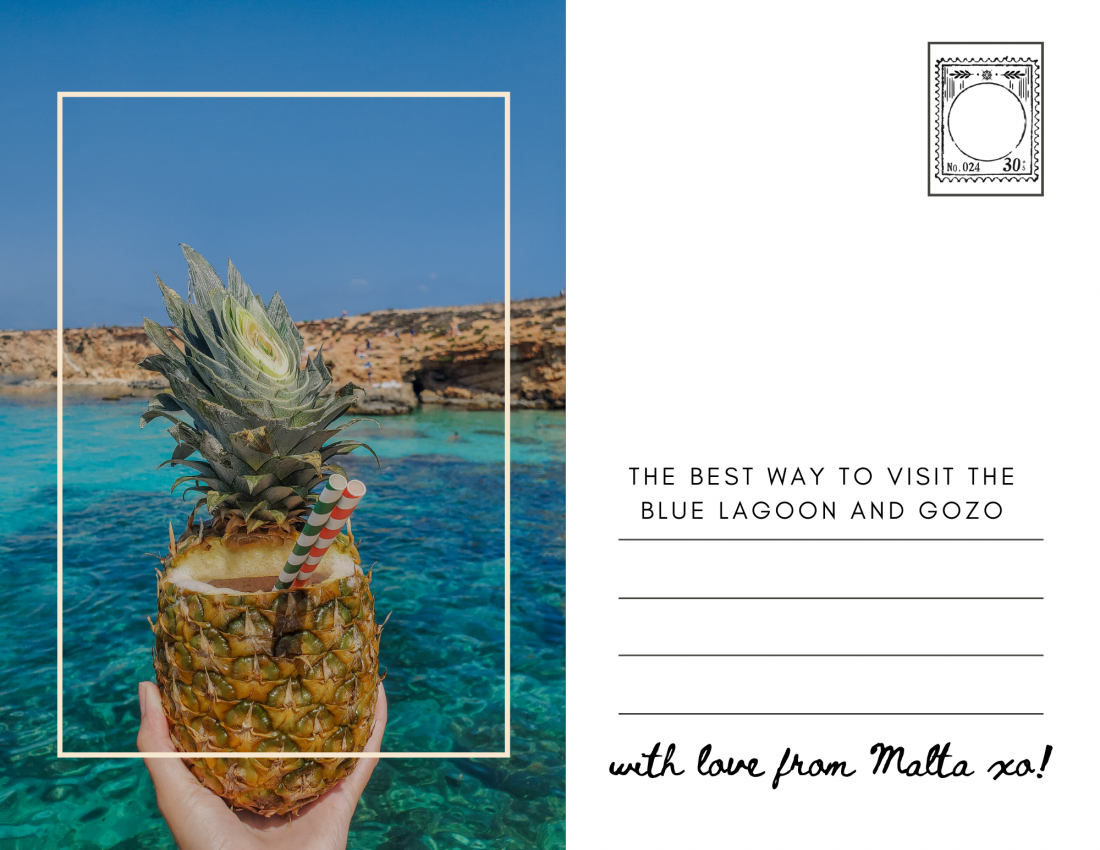 The lagoon is Malta's most popular attraction with people arriving early to grab a spot on what little sand there is while others are left laying their belongings on the hot rocks for the day. I avoided laying elbow to elbow with a crowd of tourists by booking a boat for the day, it's the most enjoyable way to visit the lagoon especially if you're traveling solo and don't want to risk leaving your belongings unattended on the rocks while swimming. 
The boat that I booked and recommend, anchors up to the island in a way that blocks off a portion of the lagoon for private swimming, avoiding the crowd entirely. The only time I encountered other visitors was when I got off the boat and walked along Comino Island to purchase a pineapple drink. There are a few companies offering trips to the lagoon but after doing extensive research, I booked this company which offers the most amenities and bang for your buck.
In this post, I share everything included in the tour and things to look for when booking a boat cruise should you choose to book with another company, but seriously, don't. It doesn't get better than this! 
If you're looking to visit The Blue Lagoon, I highly recommend booking with Hornblower Cruises. You can read their over 4,000 amazing TripAdvisor reviews here. They offer two packages. Option B is for those who want to swim in the Blue Lagoon on Comino Island (1.5 hours) and then afterward explore the island of Gozo (3 hours) this is the option I booked. Then there is Option A for those who prefer to skip visiting the island of Gozo and instead spend all of their time (4.5 hours) swimming in the lagoon.
Both options offer additional "add-on" excursions like jumping in a speed boat and heading into a few caves with "crazy Tony" or a mini tour bus guide around Gozo. I opted for this inexpensive add-on instead of wandering around Gozo solo for 3-hours. Be sure to bring cash for add-on excursions. 

WHY BOOK WITH HORNBLOWER?
Transportation is so much easier! Malta is made up of various islands that can only be reached by ferry. The "public transportation ferry" from the main island of Malta to Comino (where the Blue Lagoon is located) leaves from Cirkewwa Ferry Terminal. If your accommodations are located in one of Malta's main cities of Valletta, Saint Julian's, or Sliema (which is most likely where you'll be) check out this post about where to stay, then Cirkewwa Ferry Terminal will be on the other end of the island so you're looking at a 2+ hour bus ride to the ferry terminal (no thank you!)



Instead of taking the "public transportation ferry" at Cirkewwa Terminal, the Hornblower Ferry Terminal is located a bit closer in Bugibba. Although closer, this terminal will also require a bus which leads to my next recommendation. Hornblower offers an affordable private van/coach transfer that picks you up from one of their designated pick-up locations along the island of Malta and takes you directly to the Hornblower Ferry Terminal where you'll board the boat (beyond easy!)

The transfer costs 5 euros and includes round-trip transportation (to and from the ferry terminal) with pick-up locations close to most accommodations. My designated pick-up point was a short three-minute walk from my accommodations which made it super convenient. Be sure to arrange the transfer a few weeks before your trip by sending them a quick e-mail. 
Audio commentary is included on the boat which means you'll receive a guided tour while pulling alongside caves on the way to the Blue Lagoon.

The boat leaves fairly early which means it's one of the first to arrive at the Blue Lagoon (before the crowds, yes!)
Hornblower doesn't simply drop you off on Comino and cruise away, instead, the boat is yours during your entire time at the Blue Lagoon. Since the island is very rocky with little shade and is flooded with tourists, being able to lounge on the boat with your small group is a blessing on a hot summer day.
Bathroom and snack bar onboard the boat (bring cash for food).
There is a faux grass sun deck with lounge chairs on the top deck. Do what I did, and as soon as you board the boat and check in, head straight up to the sun deck, throw down your towel, and claim a spot, otherwise, you'll have to find a seat in the shaded lower deck (away from the slide and all of the fun upstairs)
Snorkel gear and lockers are available for a small rental fee. You're welcome to keep your belongings on the sundeck with you but I felt more comfortable keeping my valuables in a locker while swimming. Quantities are limited so be sure to reserve it when boarding the boat and signing in.
The water slide on the side of the boat goes directly into the Blue Lagoon and is guaranteed to be the highlight of your time on the Hornblower.
included in option a and b
CLICK BELOW TO PURCHASE A HORNBLOWER TOUR
I BOOKED COMINO, BLUE LAGOON & GOZO - 2 ISLAND BOAT CRUISE (their option b)
I'm not a strong swimmer so I booked Option B which departs from the blue lagoon after an hour and a half (just enough time) and heads to the island of Gozo where you're given 3 hours to explore. 
I recommend booking Hornblower's "taste of the island" minibus/coach trip for 5 euros which takes you to the main attractions on the island of Gozo like Ta' Pinu church and the Capital city Victoria. You'll also have time to explore alone or with your boat mates so be sure to swing by the Citadel of Victoria, St George's Basilica, and Cathedral of the Assumption.
LIKE THIS POST? SAVE IT ON PINTEREST


clink any photo below to pin!